hidden
Murder Mystery

"MURDER MYSTERY, YOU HAVE THE RIGHT TO REMAIN SILENT…FOREVER!"
Murder Mystery Dinners / Luncheons / Virtual / Remote / Distributed / Mystery Cruises / Corporate / Public Shows / Tech Enhanced / Locations
Themes: Corporarte Espionage / 1920's and other decades / Clueless / Maone House / Masquarade / Holiday / Custom
Hilarious by nature…deadly by design! The first cocktails of the evening…playful laughter, casual socializing… "Hahaha" and then…a sudden surprise as shots ring out! Was that a hitman? Was it a guest? Did the detective just take down a felon or eliminate a potential witness?
Could it be an inside job? Does he get the "hit" or does he get himself shot; from that moment on…it's anybody's game!
A homicide detective arrives and every eye scans for the guilty party. Who will reveal the truth and who will unveil the real culprit? Who hired him? Why? Should anyone beware? Has "fun" just begun? How long has the barkeep been employed? Who else is involved? Is that your real hair colour?
COMEDY IS THE KEY INGREDIENT.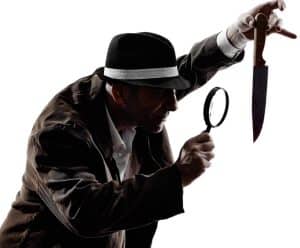 Murder Mystery dinner theatre can be staged in an environment of great food, whether a sit-down dinner, buffet, luncheon or tapas and cocktail style. In addition performed in unique environments and plenty of ambiances such as restaurants, cruise boats, private homes or lounges. Moreover, each event has a customized script created along with a professional cast rehearsed in the plot.
The actors then arrive just like the real guests with no one knowing who they are – incognito. That's when all the fun begins! At any given moment you could be talking to a murderer, a potential victim or just plain innocents. But that's all part of the fun as wild scenes sporadically erupt.
Then guests have an opportunity to try and solve it before the actors wrap things up with the big, cataclysmic conclusion.
Mission: Impossible
YOUR MISSION, IF YOU CHOOSE TO ACCEPT IT, IS TO HAVE A BLAST!
Our Adventure App provides Teams with a unique and interesting way to interact with the live Mission Impossible Mystery Theatre. We have designed our dinner theatre interactive app to enhance the experience with online evidence collection, video presentations, multi-media evidence and some zany fun. During your Mission, there will be actors in character that will help reveal clues and engage audience members, teams will earn points and at the end of the game, our host will view the scoreboard to determine who has won by which team answers the question correctly of Who Killed Who + the most points. Solving the murder(s) allows your points to be considered.
OBJECTIVE OF THE MISSION
The aim of the Mission is for teams to solve the murder(s) using the Adventures App and to complete as many tasks and challenges as possible to earn the most points. Teams will have to physically visit some hotspots to unlock the challenges using Image Recognition and/or GPS activation.
MANOR HOUSE MURDER
***BREAKING NEWS***
INVESTIGATORS CALLED TO CADAVER MANOR AFTER BODY FOUND AT SCHOOL REUNION
A murder investigation has been launched, after the body of the internationally renowned lawyer, Laura Norder was found last night at Cadaver manor.
Initial reports suggest that Miss Norder was at the manor for a school reunion, with other party guests thought to include a high profile property tycoon and professional athlete.
DCI Andrews, the lead officer in the investigation said "We are currently investigating the circumstances surrounding the death of Laura Norder at Cadaver Manor. Due to the high profile nature of some of the guests at last night's event, we cannot release any further details at this time."
A specialist team of investigators leading on the case are due to arrive imminently, to begin examining evidence and liaising with key suspects/witnesses, in order to piece together the sequence of events that unfolded at Cadaver Manor.
There is a real sense of urgency, in this case, to start ruling out suspects and catch the killer.
MANOR HOUSE MURDER
How will it work?
You and your team have been brought in to investigate the murder at Cadaver Manor. In this team building activity, participants work together to unlock and examine key evidence such as witness statements and suspect interviews, using augmented reality and image recognition technology. As you explore the crime scene via an interactive map, you'll complete tasks and challenges which will help you acquire evidence and assist with your investigation.
Throughout this immersive, tablet-based murder mystery, points will be awarded for successfully completing observational and trivia questions, as well as fun photo and video tasks… all whilst identifying the weapon, murderer, and motive.
What will you learn? 
Promotes strategic thinking and logic
Encourages collaboration
Improves the ability to problem solve
Promotes creative thinking
SPY SCHOOL
CRYPTIC MESSAGES, SECRET CODES AND COVERT MISSIONS –  ALL FEATURES OF THE EXCITING SLIXER SPY SCHOOL SCAVENGER HUNT.
Tasked with several challenges, teams will need to channel their inner spy to succeed and reign supreme. Using the most advanced technology in the event industry, each team, armed with our app as their guide, will undertake a journey of espionage around your chosen location and complete a range of spy inspired tasks, challenges and questions. An eye for detail, excellent memory and a competitive streak is what's required of you and your fellow spies for this fun, competitive spy-themed scavenger hunt.
'Secret Spy Meeting' hotspots can be included in the scavenger hunt, allowing teams to grab a much-needed martini before hitting the streets again and trying to uncover the rogue spy in their organization.
Enhance your event by using our range of actors who will pose as undercover agents, forensic scientists and black-market traders making this unique spy-themed scavenger hunt a truly immersive activity.
Spy School
Questions, tasks and challenges…
Teams will be presented with a variety of questions, trivia and team challenges to encourage them to work together. Photo and video challenges of the teams in action and can be shown immediately post-event.
Support, planning and event management
Our dedicated and experienced team will work with you before the event, to help put together your game and can also recommend a suitable venue for the start and end of your event.
All of our events can be run with remote support using your own devices or fully managed with an event facilitator.
Let's go global….
If you have colleagues or offices in other locations around the world, our multi-city option, the virtual option is a great way to involve and engage them. Let us know when you inquire if this is something you'd like to include as part of your event…
The streets are your playground during this thrilling spy inspired scavenger hunt…
Precautions
No matter where in the COVID resume stage-we are at we can easily adopt social distancing if required, actors wear masks and temperatures taken prior. We make that part of the plot in a fun, non-offensive way.