Calgary Whodunit?!?
Presenting murder mysteries all started back in the 80's for us, performing in some of the Rocky Mountain's premier resorts. Chris Hill, Slixer's founder, studied Theatre Arts at MRU and was approached by the Deer Lodge manager to do a mystery weekend when he was just 21. It was the start of a love affair with the murder mystery. Forming partnerships, developing relationships downtown including Quincy's restaurant, a mystery weekend at Emerald Lake Lodge to a mystery train ride through the Rockies. We have formed strong relationships with some of Calgary's best talent and venues, like Saltlik and Teatro's. For a more casual mystery environment we recommend Ceili's either on 8th or 4th ave.
"Thank you so much for the wonderful [murder mystery] party on Saturday. I have heard great reviews from all of our staff. It was a super fun night, and I would definitely do something like this again in the future."
Diabolical!
We'll take our guests through two hours of hilarious, interactive fun in which nobody is left out of the fun. We have news articles, autopsies, more than one murder, notes from suspects, letters from lawyers and a plethora of clues and evidence. You must figure out "whodunit?!?" by sleuthful detective work. For instance, is that guests really there just for dinner or is something more sinister afoot?
One minute you could be talking to a real guests, turn your head and now you are face to face with a killer! The detective, all the while, grilling everyone, leaving no stone unturned. The centre of the plot will reveal itself in the BIG cataclysmic conclusion.
Immersed in the thick of things are the actors in character, some are more obvious and could be a psychic giving palm readings. Although who knows if they're any good at predicting their own future! Other characters are more subtle and could be a server, a bartender or another guest.
Calgary murder mystery events will make sure you are thoroughly entertained and satiated. After the final bow we'll award a wonderful prize to the team that figured out "whodunit?!?", at least which team was closest.
We use writers, actors and directors that have years of experience doing dinner theatre and murder mysteries specifically. We have venues we can suggest or we are happy to come to a venue you have arranged or even a private home.
Calgary Murder Mystery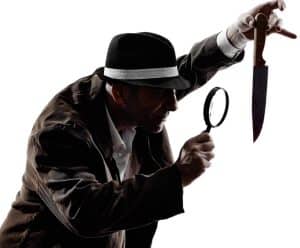 Whatever you occasion, Murder mysteries are a fantastic entertainment offering for either corporate or private events. For example, a Christmas or holiday dinner, year end or anniversary and birthday party. We will gather "inside info" on either your company and organization or your guest(s) of honour and weave that into the plot for a fully customized experience.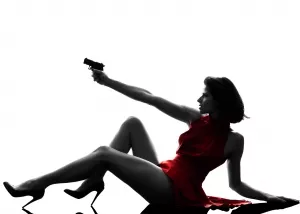 These mystery events go superbly with anything from tapas, cocktails to dinner or luncheons. A great idea for a company function or to add flavour to a milestone birthday or anniversary.
So go ahead, give us a call at 1-866-737-1750 to discuss your needs or fill the information out below and we'll start production to make your next event something truly memorable, fun and unique.
From the Horses Mouth
"The Murder Mystery was a HUGE success!!  Everyone enjoyed the day immensely, the actors were fabulous, well organized and they executed the script magnificently!   I know our staff really enjoyed being part of the script, I wasn't sure how you were going to use the information that I submitted but it was done with fun and very effective.  Some of the actors were in the room when our managers were presenting and it was brilliant how Brendan incorporated tidbits from the presentation into the script. I give the entire team a 10 – awesome!  This is the second time I have used Slixer and would not hesitate to do it again, will highly recommend you to the other departments at TAQA as well as associates and friends. Job well done!!"
– TAQA –  
"Thank you a good time was had by all. The cast was funny, engaging and entertaining. I actually thought one of the actresses actually worked for the restaurant for the longest time, a sign of a great actress. Brendan [Hunter] did a great job setting the stage and hosting the event. A big "Thanks!" from all at Lumina.
I would definitely book with you again and recommend Slixer to my friends. I was a very enjoyable evening."
– Lumina –
Give us a Shout!
(* Required)
Keep current on the latest trends in team building, group activities and our public events.

Team Activities
&
Entertainment
1-866-737-1750