[rev_slider_vc alias="murder-mystery"]
Toronto "Whodunit?!?"
Toronto has a fantastic range of talent and venues perfectly suited for one of our Toronto Murder Mystery Dinners, Lunches or Cruises. Slixer performs throughout the GTA.
Diabolical!
Your colleagues, friends and the other guests will be implicated in the plot with clever clues that we glean from "inside info" we gather. You'll need to be on the ball to try and solve the case.
You have just become the leading sleuth in one of the most unique experiences available anywhere in Toronto: An evening of Murder, Mystery & Mayhem. Whether you need venue options or you have your own we'll make it happen.
Our murder mystery writers, directors, actors, and producers have combined their talents to produce hundreds of live "whodunits" for years.
Toronto Murder Mystery dinner theatre is always staged in an environment of great food, unique venues and plenty of ambiance. Each event has a customized script created along with a professional cast rehearsed in the plot.
Murder Mystery
Most noteworthy is the actors arrive just like the real guests with no one knowing who they are; incognito. That's when all the fun begins! At any given moment you could be talking to a murderer, a potential victim or witnesses. That's all part of the fun as wild scenes quickly erupt.
Murder mystery dinners and luncheons are an excellent entertainment option for your corporate or private event. Such as Christmas, year-end, anniversary or birthday. Customized specifically for your company, organization or group, we love to work with unique aspects of your business or organization.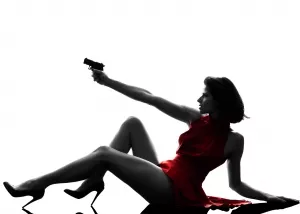 With murder mysteries you have the best of both worlds; quality food and comedic entertainment. Set in superb restaurants we have performed in for years or at a venue of your choice. Our mysteries are a sure way to take the drab routine out of company events or spice up a birthday party.
Therefore any event will benefit with some livening up with our clever entertainment. We use professional Toronto actors to entertain you and your guests during the performance, using "inside information" obtained from you to complete the diabolical plot. We take the anxiety out of organizing; producing the custom mystery, liaising with the venue and all parties involved.
We Are Here To Help
(Required*)
Keep current on the latest trends in team building, group activities and our public events.
Team Activities
&
Entertainment
Toronto 416-737-9868
1-866-737-1750